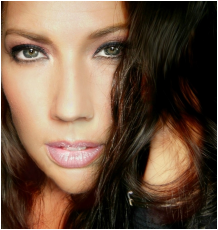 About Kelisha

​Born in Los Angeles and the youngest of six children, Osborne was raised by her parents,
an American-English couple, primarily in the Western United States. She moved to Denver,
Colorado shortly after completing her studies, pursuing a career in the Architectural field.
Her life took an unexpected turn when she was spotted by a modeling scout who put her
career into motion. Although she had been enjoying great success; seeing much of the
world as a runway and print model, Kelisha ultimately settled in Park City, Utah.


---
Taking an absence from modeling, she focused her energies on her family, her painting, as well as an advertising and
television career. Predominantly, she was a driving element behind the "Dinning Guide" segments for a popular cable
channel.
Her extensive and cryptically diverse lineage includes French, Moroccan, Spanish, Hungarian, Romanian, Polish, Russian,
Egyptian, Arabian, Armenian, Canadian First Nation Métis, Native American, as well as Indian, Malay, Irish, Italian,
Greek, Israeli, African, Australian, and South American.
Along with covering independent film festivals, Kelisha has had supporting roles in shorts, as well as commercials. Presently,
Osborne is immersed in
voice overs, commercials, as well as film
…. and, -
of course, her art.
She is also
involved in local,
national and international charities.
When she is not working or exhibiting, Kelisha enjoys spending time with her family, delving into the culinary arts, hiking with
her Rottweiler, writing and painting from her home in the mountains just outside of Park City.